GIC Kin edler von den Lichtalben (DE) - Kin
Kin is a creamtabby colorpoint, RAG e 21.
Kin was born on September 5th 2012, and he is our first imported cat!
Gained titles;
Champion, Lahti January 26th 2014
International Champion, Tallinn August 16th 2014
Grand International Champion, Tallinn February 20th 2016
Kins pedigree you can find here. (PawPeds)
ES*Patriarca Gucci isn't present on his pedigree.
Kin was available to outside of this cattery, to a selected breeders who avoided linebreeding and only for girls that were tested to be healthy.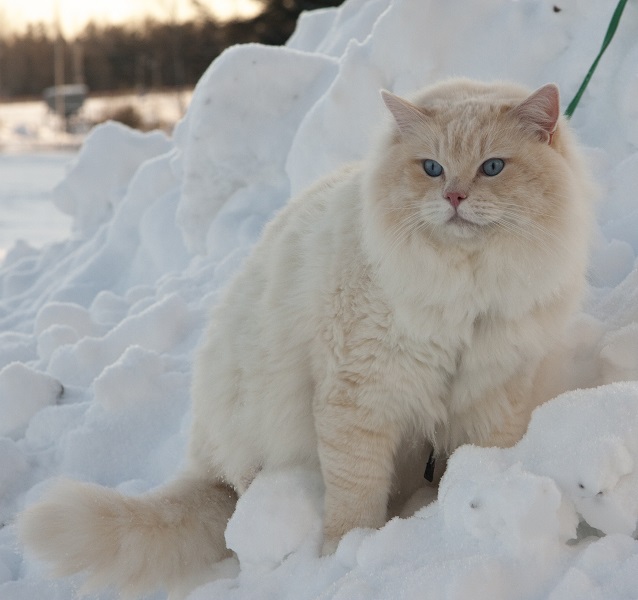 Tests ja weight

Weight; 7,36 kg (12.2.2018)
.. pre stud weight; 6,97 kg
.. top weight; 7,38 kg (22.1.2018)
Agouti; A/a, agouti (20.9.2013)
- Leaves behind both tabby and nontabby offspring.
Suprelorin chip; 4.7.2017 No effect
Breeder; Pia Reitmeir
HCM DNA - Negative (20.9.2013)
FeLV - Negative
FIV - Negative
Bloodgroup - A
Heart scan - No deflections (4.11.2013)
Kidney scan - No deflections (4.11.2013)
Father of following litter;
FI*Darkie's Fourth -litter (3 ♂), d.o.b. 20.4.2014
FI*Lumikuu F-litter (2 ♂, 1 ♀), d.o.b. 24.10.2014
FI*Emija's E-litter (1 ♂), d.o.b. 9.11.2014
FI*Clawdesign first litter (1 ♂, 1 ♀), d.o.b. 25.5.2015
FI*MistyMay's litter, (3 ♂), d.o.b. 8.8.2015
FI*Pehmis, Juhannus-litter (Midsummer) ( 1 ♂, 3 ♀), d.o.b. 25.6.2016
FI*Darkie's Sixth -litter, (3 ♂, 4 ♀), d.o.b. 1.4.2017
Kullannupun-litter (x ♂, x ♀), d.o.b. 25.10.2018
Kin is now done with the life as a breeder male, and will be moving to a neuter-club after he's gained his last show-title... :)

Kin's showpose, 16.5.2016
Parents;
Ashanti Edle von den Lichtalben (DE), g 04 x BE*The Cute Cats Fairy Prince, n 04 21