Darkie's Yume - Aatu
Aatu is a seal mitted male, RAG n 04 and he carries dilution and chocolate.
Aatu was born to our Fifth -litter, 27.05.2016 and he is our second attempt to get a male under our catterys name. :)
Gained titles
Champion, Ylöjärvi 3.9.2017
You can find Aatu's pedigree here. (PawPeds).
I wish that Aatu will become a breeding male under the name FI*Darkie's. He would be available to use mainly outside of my cattery since I just don't have suitable femaler for him. Atleast not currently.
The females need to be with clear sonic from heart and kidneys, HCM, FeLV and FIV negative and bloodgroup checked. Not available to linebreeding or overtyping.
I will put more info after a while, I just need to get to know this young lad better and he needs to grow. :)
Naaraiden tulee siis olla terveeksi ultrattuja sydämen ja munuaisten kannalta, HCM, FeLV ja FIV negatiivisia ja veriryhmä määritettynä. Linjasiitosta ja ylityypitystä välttäen.
Lisäinfoa tulee kunhan opin tuntemaan pojan paremmin ja ikää tulee lisää. :)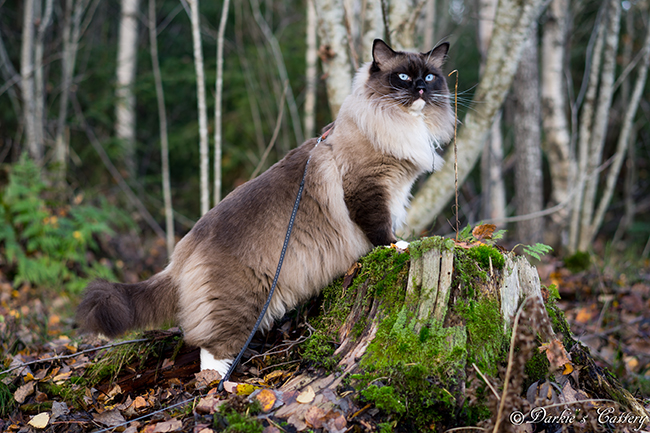 Tests and weight

Weight; 7,16 kg (14.11.2017)
Genotype; D/d B/b
- Carries dilution and chocolate (28.3.2017)
HCM DNA - N/N through parens
FeLV - Negative (28.3.2017)
FIV - Negative (28.3.2017
Bloodgroup - A (28.3.2017)
Hear scan -
Kidney scan -

Parents;
CH Ryoko edle von den Lichtalben, RAG n 04 x IC FI*Emija's Elvis, RAG a 21