Darkie's 7.2
Unfortunately the first attempt didn't take, but we will try again. :)
Quite the grumpy cat Ruusu tried her luck with calm Nutu. Nutu's tiring tactic was successful, and after almost 2 whole days the stud got to mate her! It's for sure that there was a successful mating on March 11th, there might've veen more without me noticing. Most of the attempts end up by one of them falling on his or her side. :D
If their fun beared fruit, Ruusu's due date is on May 15t 2019
Will be mated from her next heat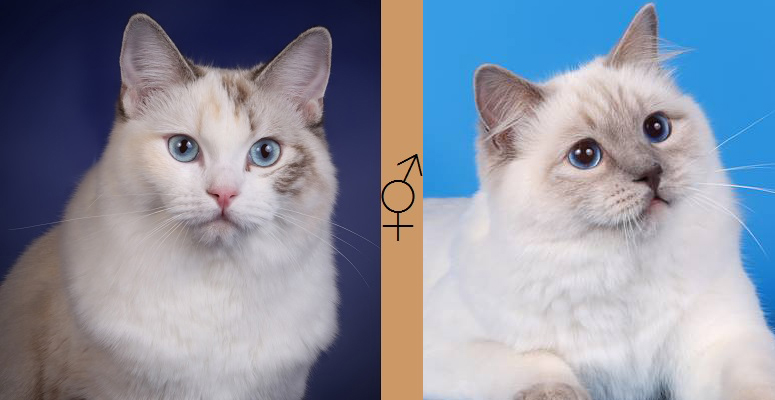 FI*Darkie's Daikokuten, "Ruusu" (RAG f 04 21) x IC Mokotuvan Nutukka Utuinen, "Nutu" (RAG c)
Parents pedigrees (inbreeding 0,340% in 10th generation)
Possible colours and patterns;
Red boys, carrying dilute and chocolate
Creme boys, carrying chocolate
Seal carrying dilute and chocolate
Blue carrying chocolate
Sealtorties, carrying dilute and chocolate
Bluetorties, carrying chocolate
50% Mitted
50% Colourpoint
50% chance of tabby pattern!
What has happened so far


Unfortunately the first attemt didn't bear fruit. We'll try again, hopefully both of them has more confidence. :)
11.3. Unbelievable! Tiring tactic has been succesful! Almost two whole days later we have a successful mating! She's still growling and hissing at times, but finally she realized she can have fun with the stud. Yes! There's hope!
9.-10.3. Feels like Ruusu isn't warming up for the boy at all... Growling and hissing. She's not being mean, but she's just very uncertain about the situation... Her heat is on 100%, but she won't let het stud near her.