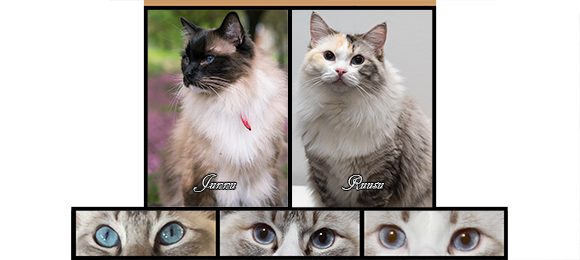 For potential buyer
On this page I try to answer to the questions you might come up with as you are thinking and searching for a kitten. This is my way of breeding and selling a kitten, so I ask you to remember that other breeders ways might vary from mine. One thing, that will never change between breeders, is the age kittens are ready to depart their siblings and mother. Kittens are not ready to leave before they are at least 14 weeks old. (change from 1.1.2020)
Breedes are in contact with each others, so buyers with history of misbehaving and contract broking will be shared with others. All breeders love their offspring and really doesn't want to see nor hear how their kitten (or anyone elses) winding up in wrong hands. Every kitten is sold to be a member of the family and indoor cats, while going out with control is okay. Abusing kittens will lead to the point that breeders will come to get the kitten back, one way or another.
As you are contacting me about a kitten, I wish you'd answer at least the following questions;
Do you have past experience of cats?
Do you have cats or other animals?
What is your life situation?

Do you have children? Do you work? Are you studying?

Do you have any known allergies in your family?
In what kind of an apartment do you live in?

If you've got a balcony, does it have glasses or grid? (is it safe)

How does your (future or current) cat/s visit outdoors?
Are you looking for showcat or just a pet?
Do you have any preferences in colour or pattern?
How and when do I hand over my kittens?
Earliest at the age of 14 weeks.
Vaccinated at the age of 10 and 13 weeks.

If kitten is going to live outside of Finland, Rabies vaccination adds 21 days to the 14 weeks.

Early neutered and -spayed.
Weighing at least 1,5 kilos. (3,3 lb)
Dewormed according to the need showed by a fecal sample.
Microchipped, with clean bill of health from a vet.
Used to other cats.
Trained to harness' and being outing on a safe balcony.
Playful and social.
Given tons of affection and love.
As a purebred ragdolls registered to Suomen Kissaliitto (FIFé)
Evira's newest recommendatiosn for cat vaccination is to give vaccinations at 12 and 16 weeks of age, but since I don't want to hand over a kitten with only one vaccination, I recommend everyone to vaccine the kitten again at the age of 16-17 weeks so s/he get's the best possible guard against bugs and bacteria. :)
With your kitten, you'll get a kitten package, which holds familiar foods and toys... The meaning of this package is to ease the stress that comes from moving to new home. In the package you also find a guide I've written, which might come of use as you grow along with your new ragdoll!
As a breeder I really hope people who wishes to go to shows with their cats, because from these kittens I get a "review" from an outsider and I can use these as a guidelines to how I need to develope as a breeder. And also, I'd love to get more Darkie's -cats to shows, this works as an adverd for me, as it brings my nime out to the open. :)
And if you want to start your career in catshows with your new cat, I will come to help you if you want me to, as long as the show is withing Finland's borders. I really wish people to visit shows with their cats, and even if your cat has mismarking you are free to go and try it for a day or whole weekend. :)
Prices for the kittens
I've divided the kittens into a two group; pets/showneuters and kittens for breeders. Pets and showneuters I will castrate/sterilize before handing them over.
I ask for 300 euros as a reservation fee and the rest of the sum when you are coming to get the kitten. The prices vary something like this;
Pet and show kitten = 1200,00 eur
Breeder kitten = from 1500,00 eur (I sell these only to people with registerated cattery names)

Price might be lower with some developmental disorder, like flat chest, severe kink etc.
The price for fostered cat is between 300-900 euros, this will be decided individually.
Prices listed above are guidelines and not the absolute truth. Each cat is an unique individual with its unique needs.
No matter if the cat is mismarked, you are allowed to take the cat to a show if you want to try it. :) I do strongly encourage you to try - this feedback is vital for me as a breeder.
All neuter kittens will be be fixed before moving to new home. Kittens will be early neutered to prevent people from breeding without permission.
What does the price cover?
Properly health tested parents

Heart- and kidneyscan (ultrasound)
FeLV/FIV tested as negative
Bloodgroup test
HCM DNA n/n (all cats used to breed Darkie's babies are clear of the known faulty gene, so no HCM DNA n/HCM cats)
If necessary, other tests will be done, like xtray for hips

Microchip
Two vaccinations (three if the cat will move outside Finnish borders)
Registration booklet
Kitten package (familiar food, toys, other nice things)
A years membership to Suomen Ragdoll cat association (Ragdolls-magazine 4x per year)
A years membership to Suomen Rotukissayhdistys (Kissa- and Surokissa-magazines)
Hundreds of hours of socilication
Lifetime support and guidance from the breeder
If you have to cancel your reservation after you've paid the fee, the reservation fee will stay with the breeder, but if the breeder will cancel your reservation for one reason or another, you are entitled to full compensation.
All my kittens will get a health guarantee for 2 years for hereditary diseaces, but only if I get a message immediately as the kitten gets sick and a statement from a vet that it is hereditary. I will replace the deseaced kitten with a new same quality kitten.
If you've decided that you want a kitten drom me, just put me an e-mail. I wish answers to the questions I listed above. :) The more you tell about yourself, the better first impression you give!
I will help with anything I can and know how to. To all who buys a kitten from me I will be reachable around the clock, on every day of the year! I wish to get photos and messages from you, I'd really like to know how things are with you and your pet. Even after 10 or more years... :)
As you are buing a ragdoll you need to remember that you should never ever let him/her outside without supervision. You need to remember that cats that roam outside freely are in constant danger and causes havoc in the nature. Cats like to go outside, so you can walk with them with harness or on a yard that has a high fence or in a separate enclosure.
The best way to reach me is via e-mail, WhatsApp, Telegram, text message or calling (if absolutely necessary). :)
Pia Fjäder // +358 40 595 8789
darkie ~at~ darkies.fi (remember to change (at) to @ )
Page updated on March 17th 2022