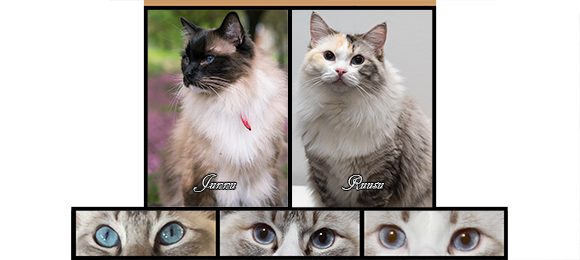 FI*Darkie's Cattery
...breeding ragdolls in a household in Mäntsälä, Finland. :)
Welcome to my catterys homepage!
The purpose of this page is to let you know more about ragdolls and be there for you to answer to any questions you might have about ragdolls. :)
I started my preeding program in 2010 and my catteryname was approved in Fifé on November 23th 2010, my first set of kittens was born here with me on July 2011. My goal is to breed healthy felines and to avoid overtyped, roundeyed and roundfaced model.
I breed my cats as a part of my family and this is why fosterhomes are very important to me, because I do not want to sell any of the adult cats that are done with breeding; they stay with me as long as they live, special situations are exceptions. We just must hope that there is not going to be any special situations (sour relationships, tension among the pack...). A cat is a long time partner and anyone who is thinking of buying a cat must realize that it is a relationship of atleast 10 years, sometimes even close to 20 years. But if you ask me, cats are the best kind of companions and partners!
Feel free to look around and ask if you want to know something and tell me if something is not working out!
Updated: 10.6.2022, 13:16 (started on 03.09.2010)
Continously looking for fosterhomes!
~Darkie