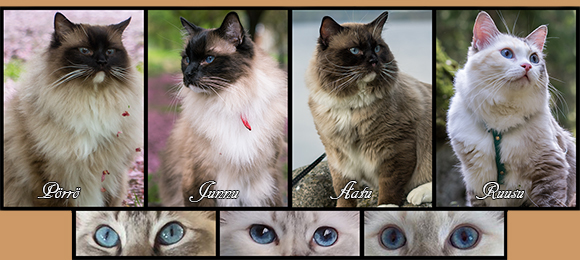 Frequently asked questions considering kittens
Do I sell cats to freely go outside?
No, never at any point. Every kitten I sell will be sold to be indoor cats and indoor cats only. You can go outside with your cat as long as s/he has harness on him/her or in an enclosure, so that the cat can't run away. Besides the irresponsibility of letting cats roam freely, it is against the hunting law in Finland.
Who do I sell a breeder kitten to?
If you want to get a breeder cat from me, you need to have a cattery name in some organization. The person who wants to breed with my kitty needs to be conscientious and treat his/her cats as a family members. The person asking for a breeder kitty will be quizzed more and more carefully than those who ask just a pet. I will not sell kittens as objects.
Is it possible to get a kitten before 14 weeks of age?
No! Never! The correct and minimum age for cat before handing them over is 12 weeks or more. Some kittens really needs more than 14 weeks (change from 1.1.2020) with their mother and breeder. I keep kittens for 14 weeks, one week longer than 3 months.
Do I sell a kitten to be a gift?
I won't sell kittens without meeting the future family of the kitten. I want to meet everyone who wants a kitten from me, so I know what kind of a person you are. If you want to buy a kitten as a present, you need to come meet me with the person you are buying the cat to. The person who the cat is supposed to go as a present needs to confirm that s/he is competent to take the cat to a vet if needed.
Do you have to come see the kitten before buying?
Yes. Preferably more than once. I really want to get to know you and see that the chemicals between you two match and that you are ready to make certain sacrifices for your kitten.
Is it possible to buy an adult cat from me?
Hopefully no. My cats are members of my family and I try to keep every cat that I keep for myself for the rest of their life. The only situations where I am selling an adult is where I need to rehome a kitten I once sold or that the chemistry in my pack is mixed and life between some cats just isn't possible. I wish these situations will very rarely be timely... The breeder cats I've kept from a kitten will live their retirement days with me. :)
What does the price hold in?
Behind the price there are...
comprehensive health and breeding tests
prices from using other breeder's studs
going to catshows
proper quality food
supervised staying outdoors
a lot of socializing
supliments used with kittens
microchip
register book
two vaccinations
deworming
kitten package
the hundreds of hours breeder uses with kittens
the support and friendship from breeder for the rest of your cats life and preferably beyond it
I also visit a lot of courses and lectures, where we study more and rehearse health issues conserning parents and kittens.
Page updated on May 8th 2020