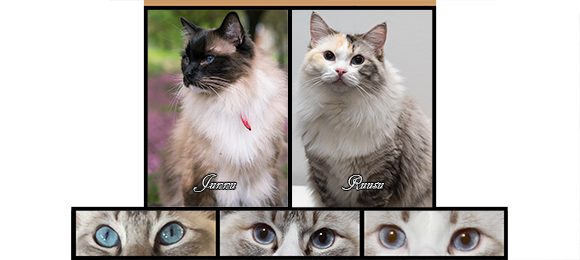 Studs
Cats
FI*Darkie's Cattery's studs
Our studs are available for matings outside of our cattery, for breeders that support the health of the breed. From inside and outside.
I do not support breeding of "perdolls" at any level, and thus I will not give my male to aid growing overtyped ragdolls. (round head, round eyes, small ears, strongly upright forehead... you get the gist)
I also expect natural mating from cats - if for some reason working male won't mate with the assigned female, there is something wrong somewhere and I won't aid with this problem. Also, if a female won't let the male mate with her, despite the male's encouraging and proposing, I won't make this happen.
I will not hold the female down so the male can mate with her. I will, on the other hand, help them get to know each others, if that is required.
You may ask a male from me if your female is..
FeLV ja FIV negative
HCM DNA n/n
Hearscanned
Kidneyscanned
Her pedigree is on Pawpeds
and as long as
If mated at your place, you will observe the cats
You will bring your female to me.
And you'll add the offspring of my male to Pawpeds.
My cats are familymembers to me and I will treat your cat as a guest of my family. :)
If you'd like to use my male, please e-mail me at darkie -at- darkies.fi :)
Currently no studs in the cattery
Page updated on September 3rd 2022