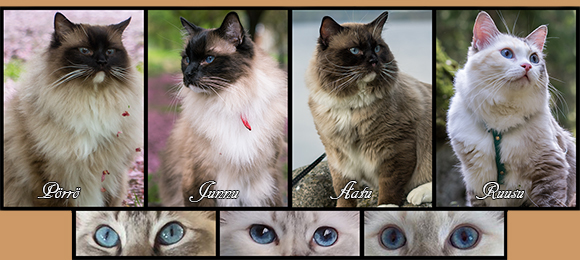 Me and my Cattery
I find it hard to describe my household as a "cattery", my activity is so minor that it make me feel like I'm talking about a cage. My home is as well my the home of my cats as it is mine. :)
I got my catteryname on November 23rd 2010, and as a happy surprise I got my first choise (FI*)Darkie's. Certification of the name (with lowsy quality) you can see here. :)
I've been surrounded by cats all my life, there has been other animals also, but cats are the only ones that have sticked around. The first memories I posess are filled with cats, and the photographs of my childhood tells me tjat there were cats even before I was born. My actions with cats are somewhat natural to me. :)
I was born in Espoo, where I grew for 19 years, untill I moved on my own. After a short period I lived in Helsinki I decided together with my past boyfriend to move to Varkaus to a calm environment. This was back in December 2009 and back then we had three cats; my beloved housecat Tiikeri, my rescued persian Roope and a housecat we got for my boyfriend Sepi. On this day all these three are deceased and back then being a breeder was just a thought, far far away in the future, I never thought that this would happen within a year.
But this wasn't what happened, because 4 months after we moved to Varkaus, we went to visit a breeder in Klaukkala who had the tiniest, most beautiful little 4 week old creature, a princess who I reserved for myself on that instant. This was how the countdown to Pörrö started. I had talked with her breeder of my dream of being a breeder and few months after Pörrö got home to me she told me that if I wanted to, I could start my breeding with Pörrö. This is how my dream started to become true!!
The first litter was born on July 2011, first litter with one of my own bred cat was born on 2012, but after a bunch of misfortunes, after 4 litters I am right where I started after all my own bred cats had to be neutered.
The year 2016 was filled with changing winds; my imported female had her first litter, I kept a male to myself to finally get a stud under my name.
Also after almost 7 years living in Northern Savonia, Varkaus, I am moving to Mäntsälä, which is located very close to Capital region.
In short;
I started my breeding in Varkaus, 2011.
I am living in a loft in Mäntsälä.
There are 5 cats in this house, four rags of my own and one fostered.
My cats are mainly members of my family, breeding is their secondary use.
You need to come to see the kitten always before making the decision of buying.
Parents for the kittens are always health tested and registered.
Kittens are always sold vaccinated, dewormed, michrochipped and registered.
If you're still interested, read more from the potential buyer page.
Page updated on November 8th 2016