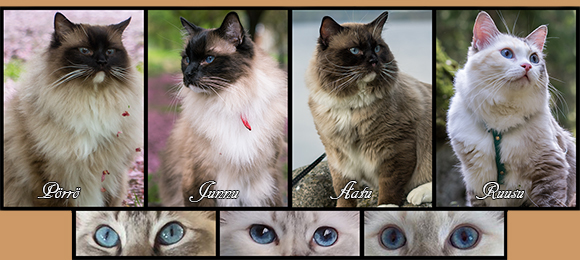 FI*Darkie's Evening Star - Miina
Miina is a blue mitted, RAG a 04.
She is the daugher of Nanna, born as a only kitten on August 29th 2012.
You can find Miina's pedigree from here. (PawPeds)
Miina is the first cat I've ever fostered! I was thinking so hardly, if I should keep her or not, but I realized that my house would bee too full too soon, and then the health of my cat's would suffer.
So, I asked from the couple that were asking about Miina, if it would be ok for them for me to make one litter with her and they said that it's ok. :)
The fostering of Miina ended just before ultrasound tests due the fact that Miina wouldn't have been able to withstand the stress caused by heats, mating, delivering and being a mother. It's a shame, but Miina's got a perfect foreverhome to be as a pet. And she'll always have a special spot in my heart.
I am forever thankful for Hanna & Mikko, who've been supporting me through this decision. I wish you all the best! :)
Tests and weight;
Weight; 4,2 kg (04.05.2014)
Heats started; 24.5.2013 (age of 8months 3weeks)
Sterilized; 12.11.2013

HCM DNA - Negatiivinen (20.9.2013)
FeLV - Negative (20.9.2013)
FIV - Negative (20.9.2013)
Bloodtype - A
Heart scan -
Kidney scan -
Parents;
FI*Darkie's Shiroi Sakura, n 03 x IC FI*Bobkatin Naked Ned, a 04