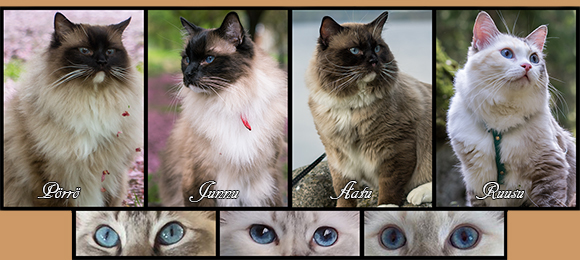 (FI*Darkie's "Taiko" -) Mokka
RAG n 03 21, sealtabby bicolor, male. Deceased.
Birthweight: x g
Mokka was another unlucky boy in the litter. Very suddenly on the evening of Independence Day, December 6, 2022, after dinner, Mokka threw up quickly after eating and continued to fuss around as usual. I wasn't worried about this because Mokka had eaten at such a wild speed at the end of a fierce rally.
The next morning, it was clear that everything was not okay, because Mokka didn't eat more than a little bit, retreated to solidarity, away from his siblings and a moment later vomited what little he had eaten. This happened again after he had something to drink and we headed to Mäntsälä's Evidensia, where the tired boy had a overall check up, the vet listened to his heart and insides and just assumed this to be an irritated stomach from vomiting and a over sensitive vomiting reflex. Mokka received a drop of liquid under the skin and an anti-nausea medicine, along with recovery food that could be mixed with water. At home, Mokka was happy to eat food from the syringe, but he was extremely tired.
During the night, Moka's condition did not improve, but rather got even worse. The food did not come out from any end, the cat had not defecated or urinated during the whole day, the last time was before during the previous day, before we visited the vet. I called the emergency room where they reassured me that we could wait until the next day if the cat didn't vomit. It was said everywhere that in blocked situations the cat will vomit, even if the anti-nausea medicine has been given.
The next day, December 8th, we headed to CatVet where they would take us in between other clients because his condition was so severe. He was clearly in pain and still hadn't defecated on his own. At CatVet, we went for an ultrasound as soon as possible and found a bowel obstruction. Intussusception. The intestine had folded on itself and stopped the movement completely. The options were euthanasia then and there or a trip to Viikki for an expensive and uncertain operation. Mokka was operated on in Viiki just a few hours later and at around 2 pm I got a call from Viikki that the part of the intestine that had contracted was necrotic and would be sent to a pathologist and that the boy would be at the intensive care unit for a couple of days until he would eat on his own, defecate on his own and was in condition to survive intensive care at home conditions.
After Mokka got back homed, a 2-week observation period began, where food was offered in small amounts throughout the day and night and exercise was avoided (especially jumping and wrestling). Everything seemed to be going well, even though the wound got slightly inflamed, when in the evening of 22.12. Mokka threw up again and was a bit more exhausted than his siblings. The next day we got to Viikki, where Mokka was ultrasounded and found to have a foreign object in the intestine. Hair, thread or any fiber that has slowed down the bowel movement. There was a risk that it would get stuck in the intestinal stitches, but the ultrasound made it clear that maybe the foreign object would move independently to the end of the intestine and out. Mokka remained at the clinic for observation so that the ultrasound could be repeated.
Mokka was already spoken for, Mokka was going to go to Jyväskylä as Vaahtis' friend, and his family really, truly expected him. Mokka was extremely loved.
When I received a call from Viikki that the foreign object still hadn't moved, there was a risk of intestinal rupture or sepsis, because there was already free fluid in the abdominal cavity, which would indicate a leak, tear or inflammation. The options were surgery, 2 weeks after the previous one, and Mokka's chances wouldn't be so promising on this round... We talked together with the future home and her roommates and thought about the best option for Mokka.
According to everyone involved in the discussion, euthanasia would be the best option for Mokka, although the most painful for the rest of us. At this point, we had to think about the amount of money spent on Mokka, which was almost 3,000 euros. A new operation would be 1500 euros again + intensive care days + other observation, if the intestine ruptured during observation period at home, the cat would face a painful and painful death.
We decided to go with euthanasia.
At the moment of his euthanasia, Mokka was pain-free. Mokka was happy, he had been medicated for pain and he had received as many treats as his little belly could take. I held Mokka in my arms until the end and I will probably forever remember the feeling when a cat that fully trusts me bakes, purrs and chirps, looking straight into my eyes.
Mokka died painlessly, but my own pain is immense. At this point, the weight brought by the litter was incredibly strong.
Rest in peace Mokka, you would have become FI*Darkie's Taiko ♥ You only lived for 10 weeks, but in your short life you touched countless of us.
15.10.2022 - 23.12.2022