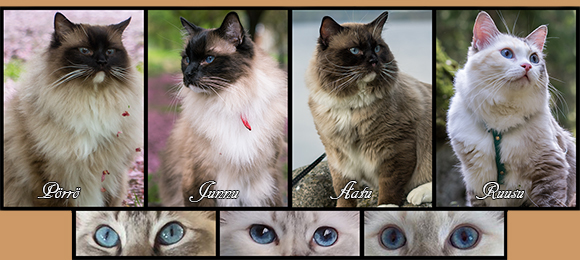 Darkie's 9.2
Because Ruusu's plans are still open, but Nala stepped up as a mandatory 'must mate now', is Nala's planned mating with Aatu numbered 9.2, this means that Ruusu's next mating attempt with entirely new stud will be with a new number.
Nala's first, and possibly the only, litter will be made with a higher inbreeding percent with Aatu, as Nala's mother Haiku had to be sterilized before her second litter. This means that the line that continues from these two need to be paired further with extra care. I aim to avoid line breeding to the last possible point, but this time I will take the risk, full well knowing the risk is there, and I intend to be open about this.
Due the situation that developed with Aatu's kidneys, he was put aside from stud duties permanently and Aatu's real-life-copy of a son from Dollgarden's cattery came to our aid. Kapu is taller, longer and heavier than his father - but especially skull-wise he is more slender. Kapu is a lot younger than Aatu, which means he still has a lot of time to grow out to even more gorgeous. ♥
Nala spent a steamy date with Kapu between August 10th and 13th, succesfull matings were witnessed during August 11th and 12th - so now we wait! If she was inpregnated, she'd be due on around October 15th. :)
Mated!
CH FI*Darkie's Haikai, "Nala" (RAG h 04 21) x FI*Dollgarden's Kalimeris, "Kapu" (RAG n 04)
Parent's pedigrees (inbreeding 2,76% in 10th generation)
Pairing is PG-free
Possible colors and patterns;
Red males (homozygous for chocolate)
Red males, carrying chocolate
Red males, carrying dilute (homozygous for chocolate)
Red males, carrying dilute and chocolate
Cream males (homozygous for chocolate)
Cream males, carrying chocolate
Seal + torties, carrying chocolate
Seal + torties, carrying dilute and chocolate
Chocolate + torties
Chocolate + torties, carrying dilute
Blue + torties, carrying chocolate
Lilac + torties
50% Mitted
25% Colorpoint
25% High Mitted Bicolor
Either 50% or 100% chance to tabby-pattern, depending on Nala's genes!
What has happened so far
2.9. Nala has been eating a lot better again and she's gained suddenly a lot more! Today she's 4752 g, meaning she's gained 700 grams to her minimunm weight. I dare to state that there are kittens on the way! ♥ She's eating chicken by the buckets.
30.8. Weighing 4550 g, she hasn't been eating as much during the week. She's interested in food, but clearly does not have the desire to eat. Her teats have gotten pinker and swollen. Promising sign...
23.8. 2545 g - promising gain! She's looking a bit nauseated and won't eat with as big of appetite than she was up till this point. Hopefully this will go past quickly.
19.8. She's been eating well! 8 days after mating she's close to +300 grams (4308g)
14.8. Nala has been retrieved and was weighed on a digital scale; 4,028 kg. Before her date her fosterhome measured her to be 4,5 kg, but that was with a human scale. It is a possibility that the date just drained her.
10.-13.8. The date is on! Nala and Kasper met in Helsinki and to the observing eye looks like they were succesful. Hoping for the best!