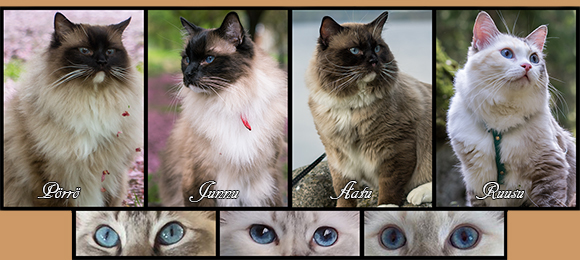 Darkie's Ninth
Ruusu's second and last litter was planned with the gentleman Gubbe from Kullannupun cattery. :)
Several succesful matings happened between May 31st and June 2nd and this means the litter would be born around August 4th. Would be fun to share my birthday with a litter from my lines!
Unfortunately the first attempt didn't bear fruit... Waiting for the next heat then.
Will be mated from the next heat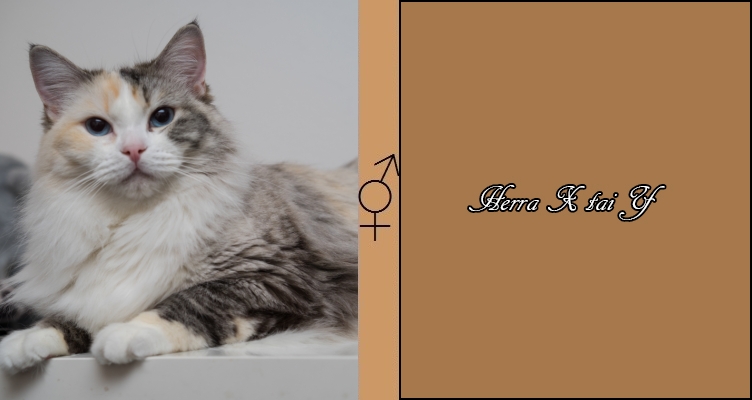 FI*Darkie's Daikokuten, "Ruusu" (RAG f 04 21) x Kullannupun Gubbe, "Gubbe" (RAG n 04)
Parents pedigrees (inbreeding 0,762% in 10th generation)
Combination is free of PG
Possible colors and patterns;
Red boys
Red boys carrying dilute
Red boys carrying chocolate
Red boys carrying dilute and chocolate
Cream boys
Cream boys carrying chocolate
Seal (+ tortie)
Seal (+ tortie) carrying dilure
Seal (+ tortie) carrying chocolate
Seal (+ tortie) carrying dilute and chocolate
Blue (+ bluetortie)
Blue (+ bluetortie) carrying chocolate
50% Mitted
25% Colorpoint
25% High Mitted Bicolor
50% possibility to tabby-pattern!

What has happened so far

21.6. It's been 3 weeks since the first succesful mating. She's gained a bit, but none of the signs of pregnancy are present. So the first attempt was fruitless. Again waiting for the next heat...
31.5.-2.6. Several matings happened! Let the wait begin! Ruusu's weight currently 6,68 kg's.
30.5 Gubbe has arrived to charm the fierce Ruusu! Waiting for matings to happen...