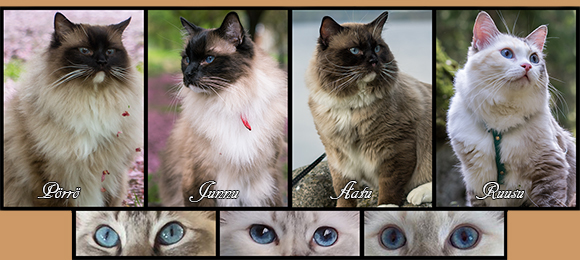 Darkie's Shiroi Sakura - Nanna
Nanna is seal bicolour, RAG n 03, she is carrying blue.
She was born July 9th 2011, so she is from our first litter.
Nannas pedigree is showing here. (PawPeds)
Nanna is the first female to stay in our breeding program. She mothered one litter but since she is rather feminist we'll see if she ever makes a second litter. Nanna is such a premature girl that I had to mate her before getting her a Champion -title. We're really just keeping Nanna a plan B, if Pörrö doesn't make another beautiful girl. If I don't have to, I really think I'll just neuter Nanna after her Suprelorin chip loses it's impact.
Nanna's first show was in Jyväskylä 9th October 2011, she got EX1. After that she's been in a few shows, got good reviews from all of them, but since she started heating, I haven't taken her to any shows. Let's see if we can take her somewhere close on summer 2014.
I had to search for a new home for Nanna, as an only pet, since the pack hierarchy was too much for her. She left for a try out to my friends home in January 2015 and during this time it became clear that she needs her space and people. Just for her, no dividing the attention.
After a search that felt so long I found her a home; a lovely couple from Helsinki contacted me and the chemistry between humans and the cat just met. In the end of February 2015 Nanna got to start her new life without competition and stress. A great thanks to Henna and Simo!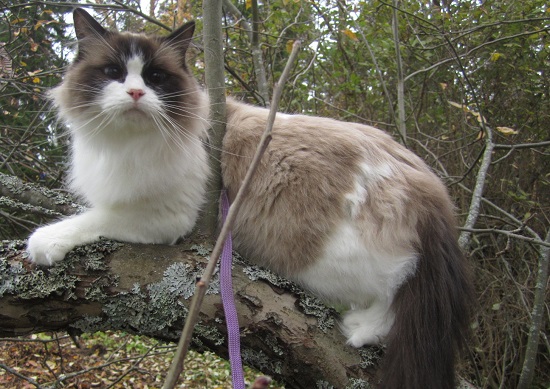 Tests and weigh

Weigh; 3,195 kg (20.10.2014)
Heats started; 28.02.2012 (7m 19d)
Suprelorin chip; 03.01.2013 - 16.5.2014
Sterilized; 2.6.2014
Colour DNA - Carries dillution (26.04.2012)
HCM DNA - Clean, parents clean
FeLV - Negative (05.05.2012)
FIV - Negative (05.05.2012)
Bloodgroup - A
Heart scan - No HCM deflections, but leak in aorta valve detected
Kidney scan - No deflections
Mother of following litters...
Nanna is sweet and loud girl who doesn't want to be left outside of what you're doing. As she grows, her nature comes out and she is such a wonderful girl. Starts purring almost immediately when you lift her up. :)
Vanhemmat;
FI*Mayapaw's Popol Vuh, n 04 x FI*Dollyblues The One and Only, a 03