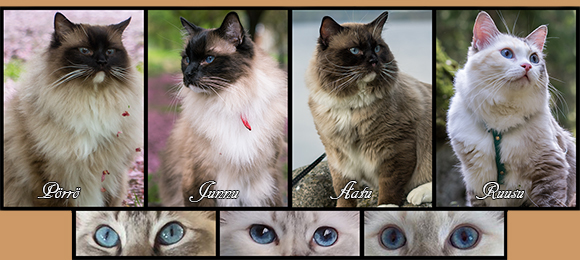 FI*Darkie's Blue Dawn - Santtu
RAG n, seal colourpoint, male. Reserved.
Neutered on March 12th 2013.
Weight on 12.3.; 3,1 kilos.
Born via c-sektion on October 4th 2012, around 3:25pm, he weighed 99 grams.
During vaccinations Santtu got clear papers about the flat chest, and it didn't stay long enough to harm the developing of his heart and lungs, there are no sidetones and the boy is healthy! :)
Santtu is going to go live with his half brother Mirre on January 1st 2013! He's got atleast one show ahead of him. :)
During kittenhood in cattery;
I was ment to put Santtu to a foster home to Leppävirta, but when he was a week old, I noticed that his chest was a little different from his siblings, by searching from the internet and with the help of other breeders, I realized our boy had a flat chest, but with instructions I found to help flat chested kittens, I quickly began to help the boy to develope normal chest. I found the instructions from here.
I wish that his chest developes to normal figure due my quick reaction (atleat it looks good), I will sell him with a pet-price, but preferably to a show home, he is such a promising boy. :) Our vet said that he has very good chanses to normal life!