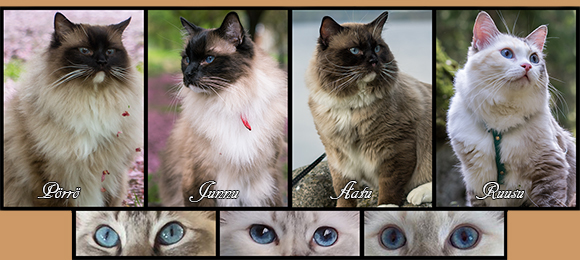 Darkie's Benzaiten - Muusa
Muusa is a bluetortie mitted, RAG g 04.
Muusa was born on 1.4.2017 and is from our first tortie litter.
You can see Muusa's pedigree here. (PawPeds)
Patriarca Gucci isn't present on her pedigree.
Muusa is top of the class in our sixth -litter and I tried to search for a fosterhome for her, as well as for her sister Ruusu from the early age of 4 weeks!
Since her half-brother Aatu and father Kin are living with me, keeping the girls with me is really difficult. Especially Muusa, since she's triggered so easily from scents and gets a heat. Ruusu came to me because her heats were really difficult and she's not triggered by the stud scent.
Fortunately Muusa could live with my mother until it was time for her kittens, which unfortunately never arrived despite mating 4 times so Muusa moved to Tampere to live with Suvi, Sami and ragdoll boy called Coco.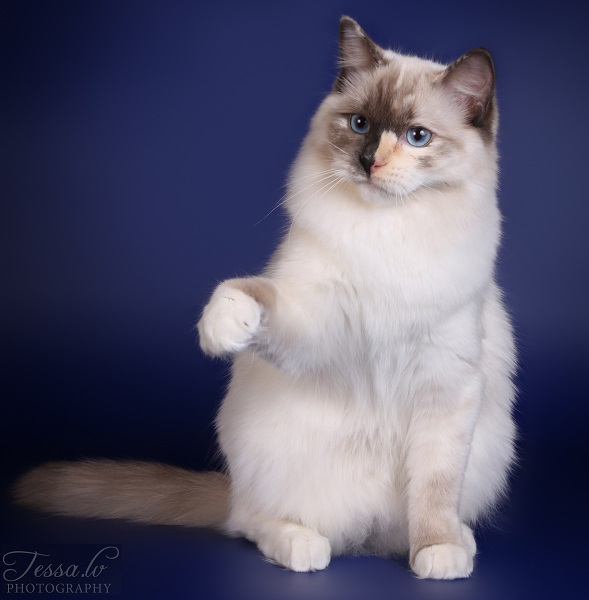 Tests and weight

Weight; 4,244 kg (19.4.2018)
Heats started; 12.12.2017 (8 months 2 weeks)
Sterilized; 22.5.2019 (2 years 1 month)
Color DNA; B/B d/d
- Doesn't carry chocolate (is blue) (23.4.2018)
HCM DNA - Clean, through parents.
FeLV - Negative
FIV - Negative
Bloodgroup - A
Heartscan - Clean, no defects
Kidneyscan - Clean, no signs of PKD or RN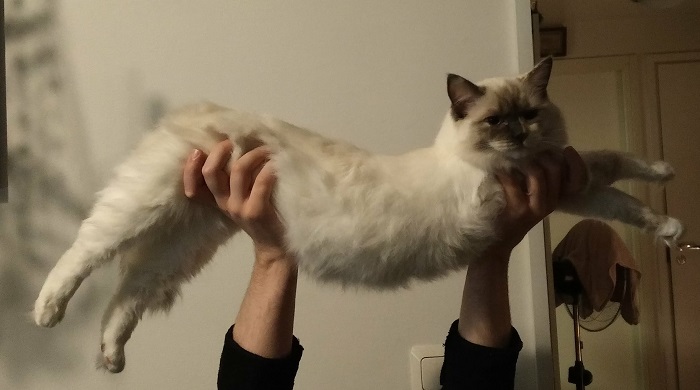 Showpose, 7 months
Parents;
CH Ryoko edle von den Lichtalben, n 04 x GIC Kin edler von den Lichtalben, RAG e 21